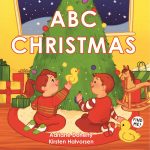 Little ones are dreaming of sugary cookies, toy-making elves, and joyous times. We can help keep their dreams sweet with these lovely alphabet and bedtime stories by children's author, Adriane Doherty.
Santa and Adriane know about ABC Christmas, a board book that helps children with their alphabet as it relates to all the wonders of Christmas. It's a first alphabet book, so as children are beginning to recognize the letters of the alphabet; they are also learning how to recognize Christmas words like carols and festivities. The illustrations (by Kristen Halvorsen) are delightful. Of course, Santa can be found in the book along with all the joys of Christmas. Children will stare at them for hours at all the pictures that are sure to keep a smile on their faces (and yours). There is even more fun. If they search carefully, they will find a hidden ducky on each page. Even if your children don't yet read, they can look at the pictures and try on their own to find the hidden duckies.
Santa knows about Sweet Dreams Indiana because he's in this book too! This beautifully illustrated board book will hold the attention of any new reader. With colorful pictures depicting places and events in the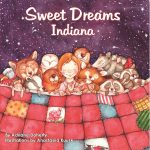 Hoosier state, Adriane shares information about each place and activity that will teach children about Indiana. Sweet Dreams Indiana is the perfect bedtime storybook with sturdy board book and curved edges. Adults just might find themselves getting lost in the pages too as they read to their children.
To know more about our children's books or to book Adriane for an appearance, please contact us here or give us a call at 317-352-8200. To see more of our delightful children's books, have a look around our Books Shop on the website.
Adriane Doherty is a longtime fan of the Christmas holiday always making sure that her husband and children enjoyed the season. She would read Christmas tales to her children while raising them. It was then that she understood the importance of an early introduction of books. Years later, she began writing books that small children could not only learn from, but also enjoy.
Happy reading ~ Ginger Bock