Learning and fun go together with Rubber Ducky Press books. Author Adriane Doherty has put together several books that teach little learners their alphabet and special information about a particular state.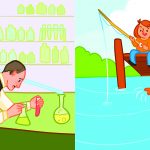 Let's go on a journey through the Hoosier state featuring Sweet Dreams Indiana and ABC Indiana. In the bedtime story book, little ones learn about the state where Adriane was born and raised. In the alphabet book children learn their alphabet in addition to interesting information about Indiana while having lots of fun.
Sweet Dreams Indiana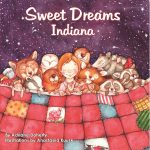 In this bedtime story Adriane presents all the beauty of nature and places that span the state. This is where you and your child snuggle up for a enjoyable adventure just before you say goodnight. What wonderful dreams your child will have about the places, animals, plants, and people that make Indiana their home. With beautiful illustrations that draw your child into the story, this book will be one of their best loved.
Illustrator Anastasiia Kuusk puts her best stroke in every picture demonstrating the wonder of the places you will visit in the book. Children will come back again and again to look at the fascinating artwork in Sweet Dreams Indiana.
ABC Indiana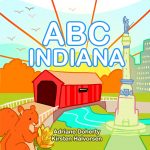 When they awaken, they will be ready to put their minds to the test and learn their ABCs with ABC Indiana. As they travel across Indiana they will learn the shapes and sounds of the letters of the alphabet.
Adriane took time to research the state to present the best of Indiana to these new readers.
You can't help but smile when you enjoy the illustrations provided by illustrator Kirsten Halvorsen.
Why not take a minute to look at all of the books Rubber Ducky Press offers. If you have any questions, you can contact us here or give us a call at 317-352-8200. Books can be purchased wherever books are sold or through us right here.
If you are interested in interviewing Adriane, please contact Thomas McLean at tmclean@cardinalpub.com.
Happy Reading ~ Ginger Bock