A great way for a child to learn about one of the states in the USA is to spend time in it and experience it for yourself. Sometimes, though, you can't go to every state in US, so you have to find another good way to experience it, and that is to read about it. The following book will help your little ones learn about Indiana.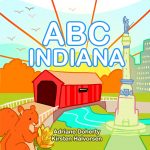 Teaching the ABCs
Parents and teachers alike look for fun ways to teach children the alphabet, and Rubber Ducky Press' founder, publisher, and author of ABC Indiana, Adriane Doherty has the same sentiments. She has created a fun way for children to learn the English alphabet while also getting special knowledge about the state. In ABC Indiana, a child will learn the English alphabet while also discovering the fun places that make up the Hoosier state. But that's not all. There is a friendly ducky that takes the children on their adventure across the state. Children will challenge themselves to seek and find the hidden ducky somewhere on each of the pages for the children.
It comes as a board book with sturdy pages that are safe for youngsters to enjoy.
Kirsten Halvorsen's illustrations bring to life the story that Adriane lays out about the different items that make up Indiana in ABC Indiana.
They'll Have Sweet Dreams
Continuing in learning about the state of Indiana, this bedtime story takes you from the canal in downtown Indianapolis, to the Indiana Dunes in Porter, up in the northern part of the state. They will also experience the Children's Museum and the 500 Race Track in Indy as well as go to the Ohio River in the southern part of Indiana. Sweet Dreams Indiana is a perfect way to put your children to bed for a sweet sleep filled with sweet Indiana dreams.
Author Adriane Doherty has firsthand knowledge on the Hoosier state having been born and raised in Indiana. She takes her experiences to the pages of this book for the readers enjoyment. While illustrator, Anastasiia Kuuk recreates the lively surroundings with her colorful artwork.
To see more of our special children's titles, have a look around our book shop. If you have any questions, please contact us here.
Like the Ducky, have fun reading ~ Ginger Bock